Many Thanks
Ski orienteering World Cup Opening was successfully organized in Ylläs in the beginning of December. All planned competitions were held, also the middle distance, which was raced again on Saturday after the results of original competition were invalidated. Weather conditions favored organisers and athletes. In addition to world cup, open ski orienteering event entitled "Ensilumen rastit" was organized with around 450 competitors.
I would like to thank all the teams who participated in the World Cup Opening in Ylläs and wish all the best for the next rounds in Norway, Sweden and Russia. I would also like to wish successful orienteering season for all the athletes who competed in Ensilumen rastit.
Arrangement of one-week ski orienteering event requires lots of work before the event. Especially course setters, snowmobile drivers and national controllers spent hours to prepare tracks, maps and instructions so that everything would be ready for the competitions. During the event as much as over 60 persons participated in the organisations and showed that they are capable to carry out a big international event.
Organisers are also grateful to the Visitor Centre Kellokas and Ski Resort Ylläs who provided their premises for the event and to a municipality of Kolari who's financial support was significant. I would also like to express my sincere thanks to all our partners, result service providers and local organisers for your significant contribution for the event.
After successful implementation of the event, I'm convinced that it is possible to arrange world cup ski orienteering opening in Lapland every fourth year as IOF is currently planning.
Veli-Markku Korteniemi
Event Director
Grand Slam for Tatyana Rvatcheva
There was no quetion who was the top lady in the Ski Orienteering World Cup in Ylläs as Tatyana Rvatcheva won all the three individual events. Yet in the last event, Sprint, the margins were small. The runner-up Tove Alexandersson was mere two seconds slower than Rvatcheva. Third, Hana Hancikova from the Czech Republic, had a suberb race which we all could read from her smiling face after the race.
In the men's event Andrei Lamov was equally convincing claiming one victory and two second places. Considering that Mr Lamov broke his pole in the Long Distance and lost the Sprint by only a second, we may expect great things from him in events to come. Norwegians excelled in the Sprint Event with Lars Mohold in the first and Öyvind Watterdal in the third place.
Middle distance: Challenging route choices
Tatyana Rvacheva had yet another good competion in Ylläs and she was the winner of today's race. Yuliya Tarasenko, also from Russia, was second and Sonja Mörsky from Finland was third.
"The route was a bit difficult, especially butterfly loops. You had to plan route choices really carefully", said Tatiana Rvacheva.
Yuliya Tarasenko was second in the original competition on Wednesday, and therefore she was really motivated to race again. She had also a good competition. Sonja Mörsky shared an opinion that the route was demanding and it required careful concentration.
Men's winner Andrey Lamov from Russia didn't have any problems with his equipment today and he was a satisfied winner. Lars Muholdt was second and Hans Jörgen Kvåle, also from Norway, was third. All top three athletes had good races, but agreed that route choices offered challenges also for them.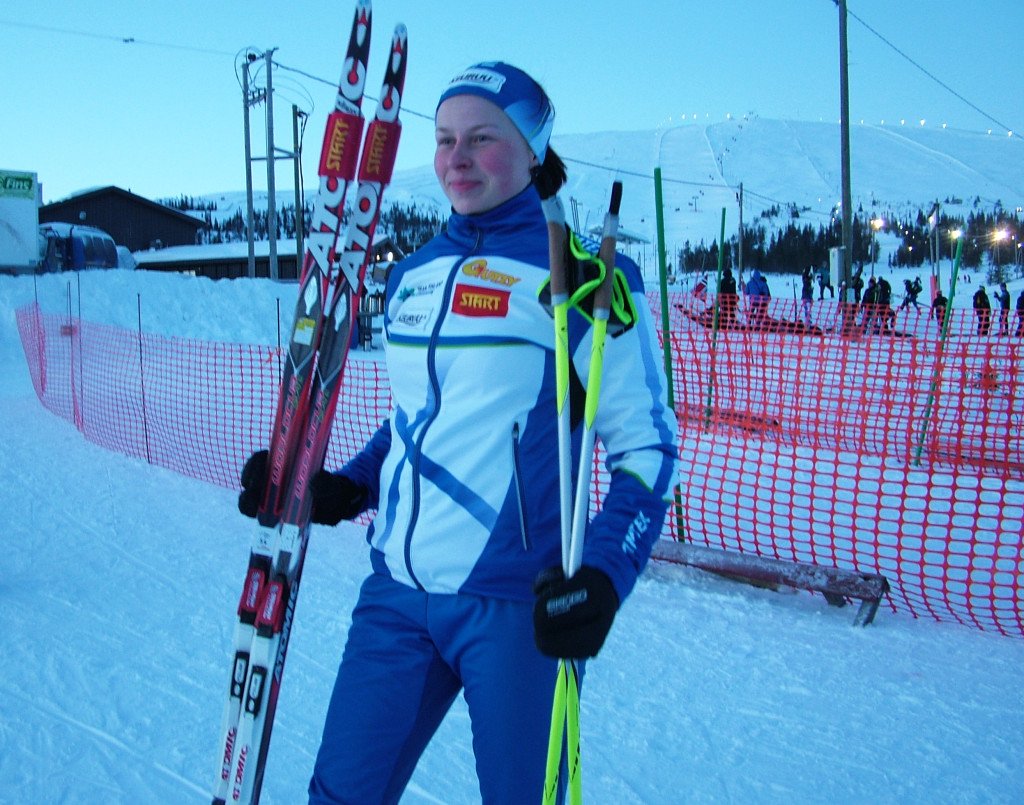 Long distance offered challenges – Rvacheva and Tunis winners
Russia's Tatyana Rvacheva was a happy winner of today's race. Milka Leppäsalmi from Finland took the second place and Estonia's Daisy Kudre was third.
"I like mass starts", said Tatyana Rvacheva, who's tactic was to use wide tracks as much as possible.
Men's competition was exciting till the end. Andrey Lamov was leading the race, but broke his stick in the end. Finally he was second. Finland's Staffan Tunis had some problems in the beginning, but he reached Lamov and was a winner of the competition. Hans Jörgen Kvåle from Norway was third.
All athletes agreed that the competition offered plenty of challenges. Routes were well structured and orienteering was demanding, but the competion was also physically challenging.
Replacement Middle distance event will be held on Saturday
The local organizers of the Ski Orienteering World Cup 2013-2014 Round 1 in Ylläs, will be staging a replacement Middle distance event on Saturday 7 December, after the results of the Tuesday event had to be declared void. Friday's Long distance event will be held as a mass start race as it will now be the first World Cup Event of the season, and the Middle distance event on Saturday as an interval start race.
Mixed Sprint Relay – Finland, Sweden and Russia in the bodium
Finland with Milka Leppäsalmi and Staffan Tunis won the mixed sprint relay. Sweden (Tove Alexandersson and Erik Rost) were second and Russia 2 (Tatyana Rvacheva and Andrey Lamov) third.
Milka Leppäsalmi had some bad luck with her stick in the end of the first leg, but in overall team Finland was really satisfied for the result.
"It was a good race", said Staffan Tunis, who had a proper rest after Wednesday's competition.
Also team Sweden and team Russia were satisfied, though some minor mistakes were done. "Tatyana's good race also motivated me to ski fast", said Russia's Andrey Lamov.
This competion form received thanks from the athletes.
Athletes: Decision to invalidate results was understandable
Due to EmiTag problems middle distance results were invalidated. Generally speaking athletes considered that the decision was correct.
"I had a really good race yesterday, and I'm a bit sorry that results were invalidated, but I fully understand the decision", said Tove Alexandersson who had the fastest time in the women's competition.
Middle distance race results were canceled
EmiTag card did not work for all competitors, and that is why the organizers can not accept the results of the todays races.
Teams ready for the World Cup Opening
Finnish, Norwegian, Russian and Swedish team leaders shared their thoughts about the starting ski orienteering season.
It is an early start for the world cup, but a long season is  highly valued. Thanks to good snow conditions in Ylläs the season opening is possible.
Teams have set their targets and athletes are ready for the competitions.
Bulletin 4 published
Bulletin 4 published.
Embargoed areas in World cup opening and Ensilumenrastit
Areas are embargoed until 9th December 2013 for competitors and team officials'. The area is closed for all orienteering activity. Outside the embargoed area there are some permanent ski tracks for skiing. Information on Ski tracks: http://www.yllas.fi/en/maps-0
Ylläs fell is waiting ski orienteers for World Cup Opening
Forests surrounding Ylläs fell are covered by 30 cm snow and the course setters have prepared nearly all tracks for World Cup opening of the season 2013-2014 and for the traditional Ensilumenrastit.
Totally 16 nations and 90 competitors (39 women and 51 men) will take part in the Opening Round with 3 individual distances and in the mixed sprint relay with 29 teams (in each team one woman and one man). The deadline for final entries with names is November 22nd. The updated entry list  (November 21st) is here.
List of entries
List of entries (November 7th) is updated. Now there 14 nations and 100 competitors participating Ski Orienteering World Cup Season Opening in Ylläs.
The competition  areas have gotten snow cover.
You can find more information from the local weather http://www.yllas.fi/en
Bulletin 3 updated

(1.11.2013)

Bulletin 3 is updated. Main changes are in competitors' entry fees (35 € per race or 105 all three individual races) and changes in services so that there are no local transports during competition days and also there is no more Banquet in program. Updated Bulletin 3 is here.
Changes in entry fees
The IOF Ski Orienteering Commission has asked the organizer to find solutions that the total entry fee for competitors could be less than 180 €. Because nearly all teams – according to the information from the Commission – are using their own cars or rental cars, the organizer has decided to make following two main changes in services during the World Cup Opening Round in Ylläs
–          there are no organizer's local transports from accommodation villages to competition centre
–          there is no banquet on Friday 6th December
After these changes it is possible to set the entry fee to be 105 € (35 € per race) for competitors in individual races and the accreditation fee to be 40 € for team officials.
Teams without own car or rental car can get local transports from the accommodation villages. The Event Office will offer help in arrangements but teams has to pay the cost of transport.
Bulletin 3 with the changed information will be updated on November 1st.
Entry form A with these updated fees is here
You can calculate new fees for your preliminary entry by using the updated entry A. The new deadline for payments is 8th  November. If fees have been paid by using previous fee levels, the organizer will refund the difference.
Entry form B for final entries with names is here. Deadline is 22nd November.
WRE in Kiruna just before World Cup
Ski Orienteering event with WRE status in Kiruna just before World Cup Opening Round. Click here to get to their web page.
Old maps
Old Ski-O and Foot-O maps from Ylläs now available in Old maps section
Bulletin 3
Training Camp from Monday 9th to 12th of December

Bulletin 2 update 2.10.2013
 Download Bulletin 2 update new
Preliminary entry form A
Deadline for Entries giving the number of competitors of each gender, the number of mixed sprint relay teams, the number of team officials and the team manager's name, address, e-mail address and phone number shall reach the organizer at the latest October 2nd, 2013 . Observe – Each Federation may enter up to 6 teams in mixed sprint relay. This is updated information according to the IOF Ski Orienteering special rules for season 2013-2014.
Bulletin 1 released