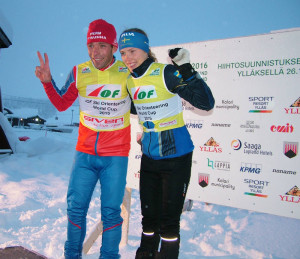 Tove Alexandersson took yet another remarkable victory in today's long distance competition. She was very satisfied to her race and altough it was a mass start she didn't see other athletes during the competition. Mariya Kechkina from Russia was second and Polina Frolova, also from Russia, was third.
Eduard Khrennikov from Russia and Ulrik Nordberg from Sweden had a tight battle, but in the end Khrennikov was stronger and won the competition. Nordberg was second. Martin Hammarberg from Sweden was third.
This was the last World Cup race in Ylläs. The SkiO World Cup continues in Germany and Austria in January.
Results: http://ensilumenrastit.fi/2015/userassets/uploads/sites/4/long_results.pdf