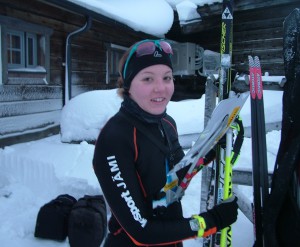 World Championships 2015 silver medalist Mira
Kaskinen is also at World Cup Opening.
Ski Orienteering World Cup opening round to take place in Ylläs from 26 November till 2 December 2015 has attracted a wide range of athletes from 14 countries. For sure, there will be tight competitions, as many world ranking top ten athletes will be present in Ylläs.
When it comes to ladies, many medallists from last seasons' championships will compete in Ylläs. Finland has a strong team in Ylläs and you can expect good races from several athletes including Mervi Pesu, Mira Kaskinen, Milka Reponen and Marjut Turunen. Team Russia, with Iuliia Tarasenko and Tatyana Oborina among others, is naturally a strong team as well as Team Sweden with Tove Alexandersson and Magdalena Olsson. Josefine Engström, who was one of the best athletes in last season's championships, has given up her place in the Swedish National Team and we won't see her in Ylläs.
We can also expect tight races in men's competitions. Stanimir Belomazhev from Bulgaria and Andrey Lamov from Russia were the strongest athletes in last season's completions and both are present in Ylläs. Lars Moholdt from Norway and Erik Rost from Sweden were also medallists in last season's championships and they will compete in Ylläs. Eduard Khrennikov who has won 14 ski orienteering world championships and is nowadays mainly coaching Russia's ski orienteering team is also opening his season in Ylläs.
There are also some internationally successful athletes including Staffan Tunis from Finland, Andreas Holmberg and Peter Arnesson from Sweden who have either finished their international ski orienteering career or are taken a year off and we won't see them in Ylläs. This means that also younger ski orienteering specialists will get a chance to race in Ylläs.