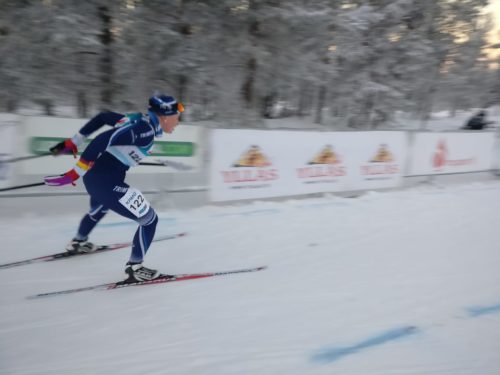 Finland took the lead on Ensilumen WRE at Ylläs on Sunday. Milka Reponen dominated the women with amazing over 5 min marginal to Sanna Pusa. Men class was won by Sergey Gorlanov by only 1 second to Jyri Uusitalo.
Reponen has been working full-day whole autumn so the goal was to get as much kilometers and track skiing as possible during the Ylläs visit. The speed was getting better and better towards the end so this was the best run for me during this week said Reponen.
Uusitalo had the same feelings. Saturday's middle was already high speed but one big mistake ruined it. Now everything worked well so Uusitalo is confident about season's championships.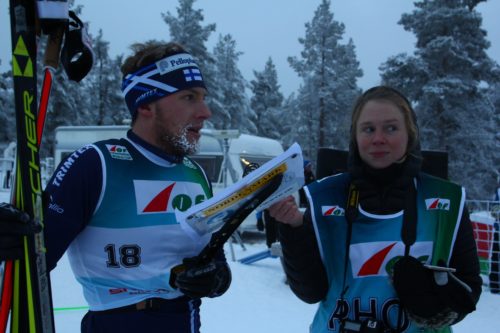 Reposelle makea voitto ja Uusitalolle kakkossija
Ylläksen WRE-kilpailut päättyivät Suomen kannalta hyvin. Milka Reponen voitti ylivoimaisesti naisten kilpailun lähes kuuden minuutin erolla Sanna Pusaan. Miehissä Venäjän Sergei Gorlanov vei voiton Jyri Uusitalon nenän edestä sekunnin erolla.
Koko syksyn täysipäiväisesti töitä tehnyt Reponen haki Ylläkseltä lisää hiihtokilometrejä ja urilla hiihtämistä. – Meno parani koko ajan ja nyt tuli viikon paras suoritus. Olen tosi tyytyväinen, Reponen sanoi.
Uusitalon mietteet olivat samansuuntaisia. Hän hiihti jo lauantain keskimatkalla kärkimiesten vauhtia, mutta loppumatkan megapummi pudotti hänet kärjestä. Sunnuntaina kaikki sujui hyvin loppuun asti. – Kulku oli viikon parasta, vaikka aamulla olo tuntui väsyneeltä. Tästä voi hyvillä mielin jatkaa kohti arvokisoja, Uusitalo totesi.